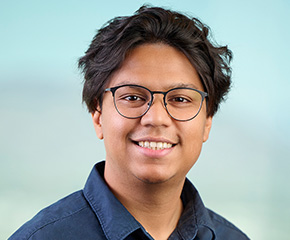 Digeshwar Vasava
Digeshwar was always inspired to do something creative and artistic. His initial fascination with architecture began during his solo travels to neighboring cities and towns in India. He was surprised to discover and learn about the historical monuments, including Indo-Islamic palaces, Indo-Saracenic architecture, local Indian vernacular architecture, and their love for using rammed earth and mud bricks as connections to the Earth. Ultimately, Digeshwar was in awe of the surrounding diversity.
Receiving a bachelor's degree in interior design, Digeshwar desired to learn more and explore a variety of architectural styles and materials. Immediately acting upon intrigue, he moved to the United States to earn his master's in interior architecture at Arizona State University (Go Sundevils!).
Digeshwar's hobbies outside of work center around travel.  From roaming in the narrow streets of India to witnessing the vastness of the Grand Canyon. Digeshwar also likes to cruise around the Arizona desert on his sports bike and hopes to someday ride across Alaska. He is also one of the rare personality types, INFP (Introverted, Intuitive, Feeling and Prospecting), just like Luke Skywalker.
"Get back up. Always get back up" says Luke Skywalker.